Farm Picnic at Osprey Cove Organic Farm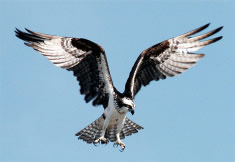 You're invited to a potluck and picnic in the fields of a beautiful New Hampshire farm – a celebration of local agriculture and the bounties of summer on the Seacoast. July 12th, 2009, from 11:00 AM to 3:00 PM, Osprey Cove Organic Farm in Madbury, NH, welcomes families to "Down on the Farm," Slow Food Seacoast's annual farm picnic and field day.
This certified organic farm, owned by Charlie Reid and Anne Dickerson (also of Stonewall Farm), offers winding nature trails to explore, rewarding adventurous trekkers with pristine views of the Bellamy Reservoir, lots of wildlife, wild berries, and active osprey nesting platforms.
Local Farms Help Keep NH Wild
Like farms everywhere, Osprey Cove Organic Farm plays an important role in the ecosystem. By keeping open space green and maintaining wildlife habitat, small farms help support wildlife, prevent topsoil erosion, keep drinking water clean, and preserve the region's rural character. The American Farmland Trust, a nonprofit organization which has helped preserve over a million acres of American farmland, puts it this way:
"Well-managed agricultural land supplies important non-market goods and services for our environment. Farm and ranch lands provide food and cover for wildlife, help control flooding, protect wetlands and watersheds and maintain air quality. They can absorb and filter wastewater and provide groundwater recharge…. farmers and ranchers are the protectors of our nation's soil, water, wildlife and scenic heritage."
2009 Theme: Birds & Bees
This year's picnic celebrates the contributions of local farms with a "Birds & Bees" theme. The focus is on winged wild creatures that act as natural pollinators – without them, there'd be no food. Activities include:
Honey Tasting: Sample honeys from different plant crops and regions. Experience surprising variations in color, flavor, and aroma. Local beekeeper Amy Antonucci will talk about what's involved in starting your own hive.
Wildlife Walk: Explore the wild acres of this beautiful riverside farm with Emma Carcagno, Wildlife Educator from UNH Cooperative Extension. Walk through the trails and fields to look for signs of the many species who make their homes on the farm. Emma will present a short talk and have available information on the NH Wildlife Action plan and other programs offered to landowners in the state.
Heritage Poultry Who's Who: Yellow House Farm of Barrington, NH, will give a talk on domesticated poultry and why preserving old-fashioned heritage breed birds is important.
Launch of 2009 Seacoast Harvest Local Foods Guide: Seacoast Eat Local and Slow Food Seacoast will present the expanded 2009 issue of Seacoast Harvest, a Local Foods Guide. Free copies will be available to take home. The guide includes a listing of farms, orchards, and vineyards in Rockingham, Strafford, and York Counties, a map of the region's farmers' markets, a harvest calendar to track what is in season at their local farms, and – new this year – a seasonal guide to local seafood.
Pie Contest: By popular demand, the pie contest returns! Guests are invited to bring a homemade pie to enter into the official Slow Food Seacoast Pie Contest. Any pie filling will qualify – berry, stone fruit, rhubarb, cream pie, etc. Entries will be formally judged for taste, crust, and appearance by a panel headed by Susan Tuveson, culinary educator and owner of Cacao Chocolates in Kittery, ME. Top winners will receive prizes.
Activities for Kids: Kids of all ages will have fun trying bean threshing, painting small plant pots and starting a seedling of their own, and making simple bird feeders.
What to Bring:
A potluck dish to share, with serving utensils
Beverages to drink with your meal, and water to keep cool
Picnic gear – blankets, chairs, reusable place settings with silverware
Boots for exploring hiking trails along the reservoir. THIS IS ESSENTIAL! As you all know – it's a VERY wet year and the trails are partially flooded.
Bug repellent, sunscreen, and a sun hat
A homemade pie to enter in the contest, if desired!
Admission: Slow Food Seacoast request a $5 per person ($10 per family) suggested donation to help cover the event's costs. Any additional funds raised will help Slow Food Seacoast continue to bring our community together to build a world of good food for everyone. We're already working on upcoming events like a Day of Action for improving the school lunch program, the 100-Mile Thanksgiving, and more! Please give as generously as you're able. Your help is much appreciated.
Directions to Osprey Cove Organic Farm: The farm is located at 255 Littleworth Road (Route 9) in Madbury, NH. From Dover travel west on Route 9. After crossing the reservoir, look for the farm about 1/2 mile down the road on the right. Pass the large white farmhouse, and watch for volunteers and signs to direct you to a parking spot. Parking is tight, so please carpool!
Schedule of Events
11:00
Event opens to the public – set up your picnic blanket!
Potluck contributions accepted at food tent.
Pie contest entries accepted
11:30
Honey Tasting/ Bee Keeping
Kids' Crafts
12:00
Buffet opens
12:30
Official welcome and from SFS
Launch of Seacoast Harvest by Seacoast Eat Local
Greetings and farm introduction from the Farmers
1:00
Wildlife habitat presentation followed by a walk to the reservoir. YOU MUST WEAR RAIN BOOTS. Thanks to Mother Nature, the trail is partially flooded…
1:15
Heritage Poultry Who's Who with Yellow House Farm
Kids' crafts and games, bean threshing, farm exploration time
2:00
Formal pie judging and People's Choice tasting
2:30
Prizes awarded
Other Activities include:
- Fishing – bring your poles
- Canoeing on the reservoir. A boat launch is just up the road.
- Exploring the farm on your own
- Blueberry picking. A few may be ripe by this time.
- Informational booths set up from local organizations that support land conservation and agriculture.
Help promote this event by sending a friend to our webpage for more information. Slow Food Seacoast Farm Picnic
---
This event is open to all. Bring your friends and family and enjoy the day, rain or shine. After all, what's a little rain?